Fair is the Place
Fair is the Place © is a genealogy written and researched by John Colin and Mildred Mac Donald and Cathy Gillies. It is an account of two Clan Ranald families who came from Eigg, Scotland in 1791 and settled in Judique, Cape Breton, Nova Scotia, Canada. The families are The 'Bogainn' MacDonalds of Little Judique and the 'Clan Sheumais' MacDonalds of Judique and Long Point, Nova Scotia, Canada.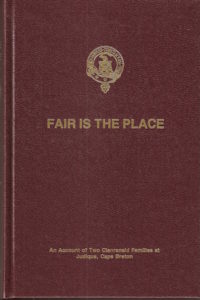 © ISBN -0-9692277-0-1
If you want the story of our ancestors before they departed Scotland, this book mentions the exodus of our people from The Scottish island of Eigg on page 59.